A chainsaw utilizes a rotating chain to cut through wood and other materials. Chainsaws work by transferring power from the motor to the cutting chain, which moves rapidly across the guide bar to create a cutting motion.
With the ability to quickly and efficiently cut through various materials, chainsaws are commonly used for tasks such as tree removal, pruning, and woodworking. Chainsaws can be powered by electricity, batteries, or gasoline, providing options for different needs and preferences.
Whether for professional or personal use, understanding how chainsaws work is essential for safe and effective operation.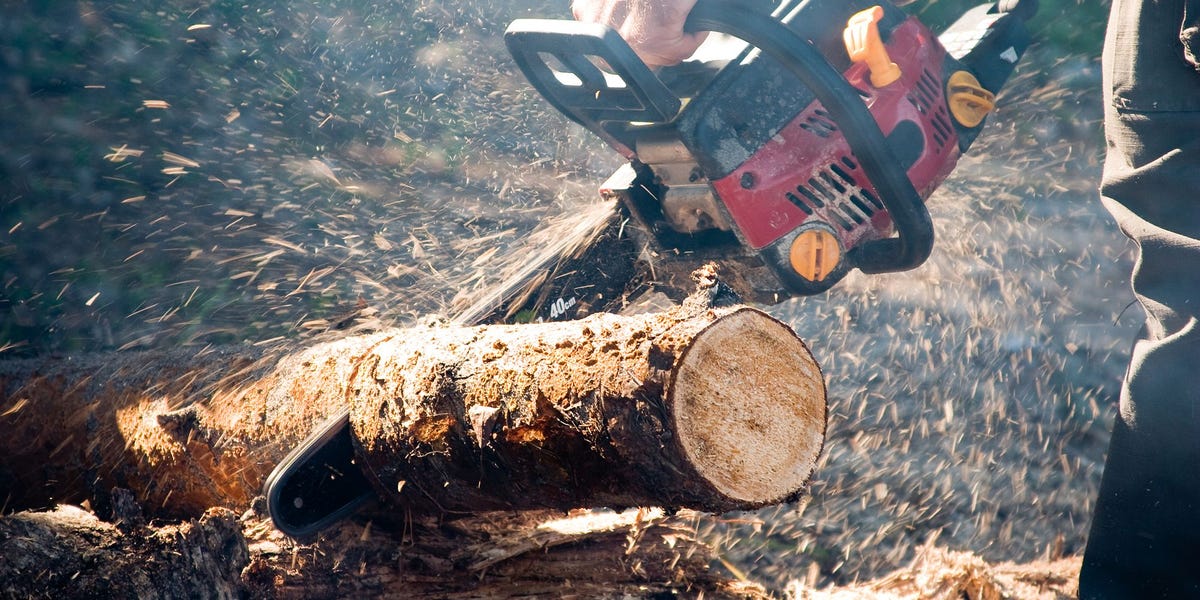 The Basics Of Chainsaws
Chainsaws are powerful tools that have become indispensable for anyone involved in cutting trees, trimming branches, or processing firewood. But have you ever wondered how these machines actually work?
In this blog post, we will explore the basics of chainsaws, including what they are, their different parts, and the various types available in the market.
So, let's dive right in and unravel the mysteries behind these incredible tools.
What Is A Chainsaw?
A chainsaw is a mechanical saw that features a rotating chain with sharp teeth.
It is primarily used for cutting through wood, making it a popular tool among loggers, arborists, and homeowners alike.
Chainsaws come in different sizes and designs, offering varying levels of power and cutting capacity.
Parts Of A Chainsaw
A chainsaw consists of several components that work together to ensure efficient and safe cutting. Some of the key parts include:
Engine: This is the powerhouse of the chainsaw, providing the necessary energy to drive the chain.
Guide bar: The guide bar is a long metal bar that supports the cutting chain and guides it along the wood.
Chain: The chain is made up of small sharp teeth that rotate rapidly around the guide bar to cut through wood.
Front and rear handles: These handles provide grip and control over the chainsaw during operation.
Chain brake: A safety feature that quickly stops the rotating chain in case of kickback or other hazards.
Fuel and oil tanks: Chainsaws run on a mixture of fuel and oil, with separate compartments for each.
Different Types Of Chainsaws
Chainsaws come in various types, each tailored to specific cutting needs and user preferences. Here are some common types:
Gas-powered chainsaws: These are the most powerful chainsaws suitable for heavy-duty tasks. They require a mixture of fuel and oil for operation.
Electric chainsaws: Electric chainsaws are quieter, lightweight, and more suitable for lighter cutting jobs. They run on electricity, either corded or battery-operated.
Cordless chainsaws: As the name suggests, cordless chainsaws operate on rechargeable batteries, offering mobility and convenience.
Pole chainsaws: Ideal for reaching high branches, pole chainsaws have an extendable pole that allows for cutting at height without the need for a ladder.
Whether you need to fell trees, trim branches, or prepare firewood, understanding the basics of chainsaws is essential. By familiarizing yourself with their components and different types, you can choose the right chainsaw for your specific needs and ensure safe and effective cutting operations.
So, now that we have grasped the fundamentals, let's delve deeper into the fascinating world of chainsaws.
Mechanics Behind A Chainsaw
How Does A Chainsaw Engine Work?
A chainsaw is a powerful tool that makes light work of cutting through logs and branches. But have you ever wondered how this mighty machine actually works? In this section, we will delve into the mechanics behind a chainsaw, starting with its engine.
The chainsaw engine is a complex combination of components that work together to provide the cutting power needed. Here's a breakdown of how it operates:
The engine of a chainsaw is typically powered by a two-stroke internal combustion engine. This means that it combines the functions of the intake, compression, power, and exhaust strokes into two piston movements.
The engine's main components include the spark plug, carburetor, piston, crankshaft, and ignition module. Each of these parts plays a crucial role in the functioning of the engine.
The spark plug creates a spark that ignites the air-fuel mixture in the combustion chamber, propelling the piston downward.
The carburetor mixes the fuel and air in the correct proportions and delivers it to the combustion chamber.
As the piston moves downward, it rotates the crankshaft, which converts the linear motion of the piston into rotary motion.
The ignition module ensures that the spark plug fires at the right time, synchronizing with the piston's movement.
The Role Of Fuel And Oil In A Chainsaw
Another important aspect of a chainsaw's operation is the role of fuel and oil. Here's what you need to know:
Chainsaws require a specific fuel mixture of gasoline and oil. The fuel provides the energy necessary for combustion, while the oil lubricates and cools the engine's moving parts.
It is crucial to use the correct fuel-to-oil ratio, as specified by the manufacturer, to ensure optimal engine performance and longevity.
The fuel is stored in a fuel tank, while the oil is typically stored in a separate oil reservoir. Some chainsaws feature an automatic oiler that continuously delivers oil to the chain, ensuring proper lubrication while cutting.
Without the right fuel and oil mixture, the chainsaw will not function efficiently and may be prone to damage. It's essential to follow the manufacturer's guidelines to maintain your chainsaw's performance.
Understanding The Chain And Bar Mechanism
Apart from the engine, the chain and bar mechanism is another integral part of a chainsaw. Here's a brief overview:
The chain and bar work together to provide the cutting action in a chainsaw. The bar is a long metal guide that the chain wraps around, while the chain consists of interconnected cutting teeth.
The chain moves around the bar in a continuous loop, driven by a sprocket mounted on the crankshaft. This rotation creates a cutting action as the teeth make contact with the wood.
The bar also has small holes that allow the passage of oil onto the chain. This lubricates the chain and reduces friction, preventing overheating and premature wear.
Chainsaw bars come in different lengths to accommodate various cutting tasks. Longer bars are suitable for larger logs, while shorter bars are more maneuverable for intricate cutting.
The mechanics behind a chainsaw involve the engine's internal combustion process, the proper fuel and oil mixture, and the chain and bar mechanism. Understanding these fundamental aspects helps to appreciate the complexity behind the seemingly simple task of cutting with a chainsaw.
So, the next time you fire up your chainsaw, you'll have a better understanding of how it works!
Chainsaw Safety Measures
Chainsaws may be powerful tools, but they also pose risks if not handled with caution. To ensure your safety and the safety of those around you, it's imperative to follow important chainsaw safety measures.
By employing the right safety equipment, practicing proper handling techniques, and being mindful of potential accidents, you can safely operate a chainsaw without compromising your well-being.
Let's explore these safety measures in detail.
Safety Equipment For Using A Chainsaw
Before starting any chainsaw task, it's crucial to equip yourself with the necessary safety gear. The following are essential safety equipment items designed to protect you during operation:
Helmet with face shield and hearing protection: Shields your face from flying debris and safeguards your hearing from the loud chainsaw noise.
Chainsaw gloves: Made of cut-resistant material to shield your hands from potential injuries.
Chainsaw trousers or chaps: Constructed with layers of cut-resistant fibers to offer protection in case of accidental contact with the chainsaw chain.
Safety boots: Provide proper traction and protect your feet from falling branches or other hazards.
Proper Chainsaw Handling Techniques
Learning and implementing proper chainsaw handling techniques is vital to reduce the risk of accidents. Keep in mind the following key practices:
Firm grip: Maintain a secure grip on the chainsaw using both hands, with your thumbs wrapped around the handles. This ensures better control and minimizes the chance of accidentally dropping the chainsaw.
Balanced stance: Stand with your feet shoulder-width apart to maintain stability and balance while operating the chainsaw.
Correct body position: Position yourself to the side of the chainsaw, never in direct line with the cutting bar. This helps prevent injury in case of kickback.
Appropriate posture: Keep your elbows slightly bent and maintain a relaxed but alert posture while operating the chainsaw to enhance control and reduce fatigue.
Tips For Avoiding Chainsaw Accidents
Despite taking safety precautions, accidents can still occur. However, by adhering to the following tips, you can minimize the likelihood of chainsaw accidents:
Adequate training: Obtain proper training before using a chainsaw for the first time. Familiarize yourself with its operation and safety features.
Regular maintenance: Keep your chainsaw well-maintained by regularly checking and sharpening the chain, as a dull chain can increase the likelihood of accidents.
Clear workspace: Before starting any cutting task, ensure the work area is clear of obstacles, tripping hazards, and debris that could interfere with your movements.
Assess surroundings: Be aware of your surroundings, including the presence of power lines, nearby structures, or potential falling objects that could pose a hazard.
Avoid risky scenarios: Refrain from operating a chainsaw in adverse weather conditions, such as heavy rain or strong winds, as they can compromise safety.
Remember, chainsaw safety is crucial for both experienced users and beginners. By utilizing the appropriate safety equipment, practicing proper handling techniques, and following these valuable tips, you can enjoy the benefits of a chainsaw while minimizing the potential risks. Stay safe and vigilant as you make your chainsaw work more efficient and secure.
Power Source Options For Chainsaws
Chainsaws are powerful tools that make cutting through trees and branches a breeze. But have you ever wondered how they actually work? In this blog post, we'll dive into the inner workings of chainsaws and explore the different power source options available.
Let's take a closer look at gas-powered chainsaws, electric chainsaws, and battery-powered chainsaws, and their respective pros and cons.
Gas-Powered Chainsaws: Pros And Cons
Powerful: Gas-powered chainsaws are known for their high cutting power, making them ideal for heavy-duty tasks and professional use.
Portability: These chainsaws are not limited by cords or batteries, allowing for greater mobility in remote locations.
No downtime: With a full gas tank, you can work for extended periods without needing to recharge or swap out batteries.
Maintenance: Gas-powered chainsaws require regular maintenance, such as fuel and oil changes, which can be time-consuming and messy.
Noise and fumes: These chainsaws tend to be louder and emit more fumes compared to electric or battery-powered models.
Electric Chainsaws: Pros And Cons
Ease of use: Electric chainsaws are relatively lightweight, easy to operate, and require minimal maintenance.
Eco-friendly: They produce zero emissions, making them a greener option for environmentally conscious users.
Less noise: Electric chainsaws are quieter compared to gas-powered models, making them more suitable for residential areas.
Limited mobility: Electric chainsaws are tethered to a power outlet by a cord, limiting their range and making them less suitable for remote or large-scale projects.
Power limitations: While electric chainsaws can handle smaller tasks with ease, they may struggle with larger or tougher cutting jobs.
Battery-Powered Chainsaws: Pros And Cons
Portability: In terms of mobility, battery-powered chainsaws offer the most freedom as they are not tied to an electrical cord.
Reduced noise and fumes: Similar to electric chainsaws, battery-powered models produce less noise and emissions compared to gas-powered ones.
Easy maintenance: With no fuel or oil changes required, these chainsaws are low-maintenance and user-friendly.
Limited runtime: Battery life is a limiting factor, and continuous use may require multiple batteries or waiting for recharging.
Power constraints: While battery-powered chainsaws have improved over the years, they may not have the same cutting power as gas-powered alternatives.
Understanding the power source options available for chainsaws is essential in choosing the right tool for your needs. Gas-powered chainsaws offer unmatched power and portability, electric chainsaws provide convenience and eco-friendliness, while battery-powered chainsaws offer a balance of portability and ease of use.
Consider your specific requirements and workload to make an informed decision. Happy cutting!
How To Choose The Right Chainsaw For You?
Choosing the right chainsaw for your needs can be a daunting task, especially with the plethora of options available in the market today. Whether you're a seasoned professional or a diy enthusiast looking for a chainsaw that can tackle your projects effectively, it's important to consider a few key factors before making your purchase.
Here's a breakdown of the factors to consider when buying a chainsaw:
Factors To Consider When Buying A Chainsaw:
Type of work: Assess the type of work you'll be using the chainsaw for. Will you be cutting small branches or larger logs? Knowing the intended use will help determine the size and power requirements of your chainsaw.
Size and power options for different tasks:
Cutting small branches and limbs: For light-duty tasks, like pruning and trimming, a compact and lightweight chainsaw with a smaller engine size should suffice.
Cutting firewood: If you'll be using the chainsaw for cutting firewood, a mid-sized chainsaw with moderate power is recommended. These chainsaws strike a good balance between power and maneuverability.
Felling trees and cutting large logs: For more heavy-duty tasks, such as felling trees or cutting large logs, a larger chainsaw with higher power output is necessary. Look for chainsaws with longer guide bars and more robust engines.
Understanding chainsaw specifications: Familiarize yourself with the various specifications of chainsaws to make an informed decision. Some key specifications to consider include:
Engine power: Measure of the chainsaw's performance and cutting ability.
Guide bar length: Determines the maximum diameter of the log the chainsaw can cut.
Chain speed: Indicates how quickly the chain moves around the guide bar.
Chain pitch and gauge: Specifies the size and configuration of the chain, affecting cutting performance.
Remember, always prioritize safety when choosing a chainsaw. Opt for models with safety features such as chain brakes, anti-vibration systems, and quick-start mechanisms. Additionally, considering factors like brand reputation, customer reviews, and warranty options can help ensure you make a well-informed decision.
By carefully evaluating these factors, you can select the perfect chainsaw that meets your specific requirements, making your cutting tasks safer and more efficient.
Chainsaw Maintenance And Care
A chainsaw is a powerful tool used for various cutting tasks, be it pruning trees in the backyard or harvesting firewood in the woods. To ensure its longevity and optimal performance, chainsaw maintenance and care is crucial.
From basic maintenance tasks to replacing chains and bars, let's explore how to keep your chainsaw in top shape.
Basic Maintenance Tasks For Chainsaws:
Regularly inspect the air filter: The air filter traps dust and debris, preventing them from entering the engine. Clean or replace the air filter as needed to maintain proper airflow and prevent engine damage.
Check the chain tension: A loose chain can slip off while a tight chain can cause excessive wear. Use the appropriate tools to adjust the chain tension for smooth operation and optimal cutting performance.
Keep the blade sharp: Sharp blades ensure efficient cutting and reduce strain on the chainsaw's engine. Regularly sharpen the blade using a file or take it to a professional for sharpening if needed.
Lubricate the chain: Chainsaw chains require proper lubrication to ensure smooth movement and reduce friction. Apply chainsaw bar oil to keep the chain well lubricated during operation.
Clean the chainsaw body: Remove dirt, sawdust, and debris from the body of the chainsaw after each use. This helps prevent clogs, keeps moving parts clean, and extends the life of the tool.
Replacing Chains And Bars:
How To Clean And Store A Chainsaw:
Clean after each use: After using the chainsaw, remove any dirt, debris, and sawdust from the body, chain, and guide bar. Use a brush or compressed air to clean hard-to-reach areas thoroughly.
Inspect for damage: Take a moment to inspect the chainsaw for any visible damage or loose parts. Address any issues before storage or next use to ensure safe operation.
Store in a dry place: Moisture can cause rust and damage to the chainsaw. Store it in a dry area, preferably in a protective case or cover, to prevent exposure to the elements.
Empty fuel and oil tanks: Before storing the chainsaw for an extended period, drain the fuel and oil tanks. Running the engine until it stalls helps empty the fuel system, avoiding clogging and starting issues.
Now that you have a good understanding of basic chainsaw maintenance tasks, chain and bar replacement, and proper cleaning and storage, you can keep your chainsaw in excellent condition for years to come. Regular care not only increases the tool's lifespan but also ensures safe and efficient cutting whenever you need it.
Troubleshooting Chainsaw Problems
Chainsaws are a powerful tool used in various industries, from landscaping to tree removal. However, like any mechanical device, they can sometimes encounter issues that hinder their performance.
In this section, we will explore common problems that may arise when using a chainsaw, steps to troubleshoot these issues, and when it's time to seek professional help.
Common Issues With Chainsaws:
Chainsaw not starting: This is a frustrating problem that can be caused by several factors, such as a clogged fuel filter, a faulty spark plug, or an empty fuel tank.
Chainsaw stalling: If your chainsaw starts but immediately stalls, it may be due to an air leak, a clogged carburetor, or an improperly adjusted idle speed.
Chain not rotating: When the chain fails to rotate while the engine is running, it could be a result of a loose or damaged chain tension, a worn sprocket, or a faulty clutch.
Engine running poorly: A chainsaw that runs rough, lacks power, or produces excessive smoke might indicate issues with the carburetor, fuel mixture, or air filter.
Steps To Troubleshoot Chainsaw Problems:
Check the fuel level: Make sure the chainsaw has an adequate amount of fuel. If the tank is empty, refuel it and try starting the engine again.
Inspect the spark plug: Remove and examine the spark plug. Clean or replace it if necessary. A faulty spark plug can prevent the chainsaw from starting.
Clean the air filter: A clogged or dirty air filter can restrict airflow and cause engine problems. Regularly clean or replace the air filter to ensure optimal performance.
Adjust the chain tension: A loose chain can cause the chain to stop rotating. Check the chain tension and adjust it according to the manufacturer's recommendations.
Clean or replace the fuel filter: A clogged fuel filter can prevent fuel from reaching the engine. Remove the fuel filter and clean it or replace it if necessary.
Inspect the carburetor: If the chainsaw is running poorly, the carburetor may need cleaning or adjustment. Refer to the chainsaw's manual or seek professional assistance.
When To Seek Professional Help:
While troubleshooting chainsaw problems can often be done by following the steps mentioned above, there are certain situations where it's best to seek professional help. Consider these scenarios:
Persistent issues: If you've attempted troubleshooting steps multiple times without success, it's advisable to consult a professional technician who can diagnose and fix the problem accurately.
Safety concerns: Chainsaws are powerful and potentially dangerous tools. If you're uncertain about performing troubleshooting procedures safely or lack experience, it's best to rely on a trained professional to avoid accidents.
Warranty coverage: If your chainsaw is still under warranty, attempting repairs yourself may void the warranty. Contact the manufacturer or an authorized service center to ensure warranty coverage remains intact.
By understanding common chainsaw problems and following the appropriate steps to troubleshoot them, you can keep your chainsaw in optimal condition and ensure safe and efficient operation.
Chainsaw Cutting Techniques
A chainsaw is a powerful and versatile tool used for various cutting tasks. Whether you need to trim branches, fell trees, or cut firewood, understanding the different cutting techniques is essential for efficient and precise results.
In this section, we'll explore the techniques for cutting different materials, provide tips for efficient and precise cutting, and discuss the safety precautions you should take while using a chainsaw.
Techniques For Cutting Different Materials:
Cutting wood: When cutting wood with a chainsaw, it's important to position the saw properly for optimum control and safety. Start by setting the saw's chain brake, then hold the chainsaw firmly with both hands, placing your left hand on the front handle and your right hand on the rear handle.

Position the chainsaw's guide bar just above the wood to be cut, and apply gentle pressure while gradually increasing the saw's throttle to make the cut.
Cutting branches: Trimming branches requires a different approach than cutting wood. Begin by identifying the branch collar, which is the swollen area where the branch meets the tree trunk. Position the chainsaw's guide bar above the branch collar, and make a small cut underneath the branch.

Next, cut from the top, angling the chainsaw slightly downward until the branch falls away. This technique prevents the branch from splitting and causing damage.
Tips For Efficient And Precise Cutting:
Maintain a sharp chain: A sharp chain is crucial for efficient cutting. Regularly inspect the chainsaw's chain for any dull or damaged teeth, and file or replace them as necessary. A sharp chain will cut through materials effortlessly, reducing strain on the motor and preventing kickbacks.
Use the appropriate chain and bar size: Chainsaws come in different sizes and power capacities. Using the right chain and bar size for the task at hand ensures optimal performance. Smaller chainsaws are suitable for lighter tasks like trimming branches, while larger ones are better for felling trees or cutting firewood.
Plan your cuts: Before starting, take a moment to plan your cuts. Visualize the path the chainsaw will follow, considering any obstacles or potential hazards. This will help you make precise, controlled cuts while minimizing the risk of accidents.
Safety Precautions While Using A Chainsaw:
Wear protective gear: Safety should always be a priority when using a chainsaw. Wear appropriate safety equipment, including a helmet with a face shield or safety glasses, ear protection, heavy-duty gloves, steel-toed boots, and chainsaw chaps or leg protection.
Maintain a secure stance: Stand with your feet shoulder-width apart and maintain a secure footing while operating the chainsaw. This will give you better control and stability, reducing the risk of accidents.
Be aware of kickbacks: Kickbacks occur when the chainsaw's guide bar is suddenly pushed back towards the operator, resulting in a dangerous situation. To avoid kickbacks, always hold the chainsaw firmly with both hands, position yourself to the side of the guide bar, and maintain a secure grip on the handles.
Remember to follow these cutting techniques, tips, and safety precautions to make the most of your chainsaw while ensuring a safe and efficient cutting experience. Stay tuned for more valuable insights on using this powerful tool effectively.
Advanced Chainsaw Operations
Chainsaws are powerful and versatile tools that are widely used in various industries and applications. From tree trimming to lumber production, chainsaws are go-to equipment for professionals and hobbyists alike.
In this section, we will delve into some advanced chainsaw operations that showcase the incredible capabilities of these machines.
Chainsaw Carving And Sculpting
Chainsaw carving and sculpting is a unique art form that involves transforming blocks of wood into intricate sculptures.
Artists use specialized chainsaws with smaller guide bars and finer chains to create detailed cuts and shapes.
This technique allows for the creation of stunning masterpieces ranging from wildlife figures to abstract designs.
Chainsaw carving competitions and exhibitions have gained popularity worldwide, attracting talented artists and enthusiasts.
Chainsaw Milling For Lumber Production
Chainsaw milling is the process of using chainsaws to cut logs into usable lumber.
This method is commonly utilized in remote locations or for small-scale projects where portable sawmills are impractical.
With the use of attachments and guide rails, chainsaw mills provide accuracy in cutting dimensions and consistent board thickness.
Chainsaw milling is not only cost-effective but also allows for a greater utilization of timber resources.
Experimental Uses Of Chainsaws
Apart from their conventional applications, chainsaws have found their way into various experimental uses.
Some innovators have repurposed chainsaws for tasks like ice sculpting, creating unique and mesmerizing frozen artworks.
Chainsaws have also been employed in underwater operations, where divers with specialized chainsaws remove obstacles or cut through wreckage.
These experimental uses highlight the adaptability and versatility of chainsaws in unconventional settings.
These advanced chainsaw operations demonstrate the wide range of applications and possibilities that these machines offer. Whether it's crafting intricate sculptures, producing lumber, or exploring new experimental uses, chainsaws continue to be invaluable tools in various industries and creative endeavors.
So, the next time you see a chainsaw in action, marvel at its incredible capabilities and the skilled individuals who wield it.
Chainsaw Alternatives And Innovations
Chainsaws have long been a popular tool for power cutting, but there are also alternative tools available that offer similar functionality.
Additionally, innovative chainsaw designs and features are constantly being introduced to improve efficiency and safety. Let's explore some of these alternatives and innovations below:
Other Tools For Power Cutting
Circular saw: This versatile tool is commonly used for making straight cuts in various materials, including wood. It offers precise cutting capabilities and is often more lightweight and compact than a chainsaw.
Reciprocating saw: Ideal for demolition work, a reciprocating saw is designed for rough cutting, such as cutting through materials like branches, pipes, and wood.
Pole saw: As the name suggests, a pole saw is a cutting tool attached to a pole. It allows you to reach higher branches without the need for a ladder, making it ideal for tree pruning and trimming tasks.
Electric saw: Electric chainsaws are a popular alternative to the traditional gas-powered models. They are typically lighter, quieter, and more environmentally friendly, making them suitable for smaller jobs around the yard or garden.
Innovative Chainsaw Designs And Features
Anti-vibration technology: Chainsaws equipped with anti-vibration technology reduce the amount of vibration transmitted to the operator's hands, minimizing fatigue and increasing comfort during use.
Automatic chain oiling: Many modern chainsaws feature automatic chain lubrication systems, ensuring the chain stays adequately oiled for optimal performance.
Reduced kickback bars: Kickback can be a safety concern when using chainsaws. Some chainsaw models incorporate specially designed bars to reduce kickback and improve overall safety.
Quick-start systems: Starting a chainsaw can sometimes be a challenge, especially in colder weather. Quick-start systems simplify the starting process, making it easier and more convenient for users.
Future Trends In Chainsaw Technology
Battery-powered chainsaws: With advancements in battery technology, battery-powered chainsaws are becoming increasingly powerful and popular. They offer quieter operation, reduced emissions, and are generally more lightweight compared to gas-powered alternatives.
Smart chainsaws: The future holds the potential for chainsaws with smart features and connectivity. These smart chainsaws may include features like app integration for monitoring and adjusting performance parameters or safety systems to proactively identify potential issues.
As chainsaw technology continues to evolve, exploring alternative tools, embracing innovative designs, and keeping an eye on future trends provides exciting possibilities for power cutting tasks.
Whether it's through alternative tools or improvements in chainsaw design, there is no shortage of options when it comes to finding the right tool for your cutting needs.
Frequently Asked Questions For How Does Chainsaw Work
How Does A Chainsaw Work?
A chainsaw works by using a gas or electric motor to power a chain rotating around a guide bar. The teeth on the chain cut through wood when it comes into contact with it. The chain is lubricated to reduce friction and keep it running smoothly.
Safety features like chain brakes are included to protect the user.
What Are The Main Parts Of A Chainsaw?
The main parts of a chainsaw include the engine or motor, guide bar, chain, chain brake, throttle trigger, and oil reservoir. The engine provides power, the guide bar supports the chain, and the chain cuts through wood. The chain brake stops the chain in case of kickback, while the throttle trigger controls the speed.
The oil reservoir lubricates the chain for smooth operation.
Can I Cut Anything Other Than Wood With A Chainsaw?
While chainsaws are primarily designed for cutting wood, there are specialized chains available that can cut through other materials like ice, concrete, and even metal. However, it's important to use the correct chain for each specific material and take proper safety precautions.
Using a wood-cutting chain on non-wood materials can damage the chain and pose safety risks.
How Should I Maintain A Chainsaw?
To maintain a chainsaw, regularly check and clean the chain, guide bar, and air filter. Keep the chain properly tensioned and sharpened for efficient cutting. Use the correct fuel and lubricants as specified by the manufacturer. Regularly inspect and replace worn or damaged parts.
Following these maintenance practices will help ensure the chainsaw performs optimally and safely.
How Do I Safely Use A Chainsaw?
To safely use a chainsaw, wear appropriate protective gear, such as goggles, gloves, and chaps. Make sure the chainsaw is in good working condition and follow the manufacturer's instructions. Maintain a secure grip, keep a safe distance from others, and watch for kickback.
Avoid working with the chainsaw overhead and be aware of your surroundings. Consider taking a safety training course before using a chainsaw.
Conclusion
To sum up, understanding how chainsaws work is crucial for both professionals and diy enthusiasts. With their powerful engines and sharp cutting teeth, chainsaws allow users to efficiently cut through trees and logs. It all starts with the ignition system, which sparks the engine to life.
The engine, driven by a combination of fuel and air, generates the power that drives the chain. The centrifugal clutch engages the chain, allowing it to spin at high speeds. As the chain rotates around the guide bar, the sharp teeth quickly and effectively cut through wood.
Proper maintenance, including regular sharpening and lubrication, is essential to keep the chainsaw running smoothly and ensure optimal performance. Additionally, following safety guidelines and using protective gear are crucial to prevent accidents. By understanding the inner workings of a chainsaw, users can safely and effectively harness its power to tackle a variety of cutting tasks.