Bowie knives are traditionally sharpened with a convex edge. First, you'll need to find the angle you need to sharpen the blade at. A good rule of thumb is to hold the knife at a 20-25 degree angle from the stone.

Next, use a medium grit stone to establish a bevel on both sides of the blade. Start with the side of the blade that faces away from you when you're holding the knife in your hand, and work your way up to a finer grit stone. Finish by honing the blade with a leather strop.
First, find a sharpening stone that is appropriate for the level of dullness of your knife
If your knife is very dull, you will need a coarse stone
If it is only slightly dull, you can use a medium or fine stone
Second, soak the stone in water for about 5 minutes to lubricate it and prevent the blade from becoming too hot during sharpening
Third, hold the blade at a 20-degree angle to the stone and sharpen using long strokes away from the edge of the blade
Be sure to maintain even pressure on both sides of the blade as you sharpen
Fourth, repeat steps 3-5 on the other side of the blade until it is evenly sharpened
Finally, test the sharpness of your knife by slicing through a piece of paper or wood
If it cuts cleanly without tearing, then your bowie knife is properly sharpened!
Best Bowie Knife Sharpener
A Bowie knife is a type of fixed-blade fighting knife. The Bowie knife was popularized by Colonel James "Jim" Bowie during the early 19th century. Bowie knives are characterized by a long, wide blade with a sharp point and often a clip point as well.

The original Bowie knife was designed by Jim Bowie's brother, Rezin Pleasant Bowie, and was made by blacksmith Jesse Clifft in Washington, Arkansas. The best way to sharpen your Bowie knife is with a sharpening stone. First, find a flat surface to work on like a cutting board or countertop.

Place the stone on the surface and wet it with water from a sink or spray bottle. Next, hold the blade at a 20-degree angle to the stone and use long strokes to sharpen the blade. Be sure to evenly sharpen both sides of the blade.

Finally, rinse off the knife and stone with water and dry them both off before storing them away. If you don't have access to a sharpening stone, you can also use a honing rod or steel wool. First, find something to prop up your honing rod so that it's at waist level when you're standing next to it.

This will make it easier to hold the blade at the correct angle while you're honing it. Next, hold the blade at a 20-degree angle to the rod and run it along the length of the rod several times. Be sure to do this on both sides of the blade until it's nice and sharp!
Bowie Knife Edge Angle
The Bowie knife is a legendary piece of Americana. Its origins are shrouded in mystery, but it's said to have been created by Jim Bowie, a 19th-century frontiersman and folk hero. The knife was designed for fighting and survival, and it quickly gained a reputation as a fearsome weapon.

The Bowie knife is characterized by its large, curved blade. The edge of the blade is usually quite sharp, and the point is often sharpened as well. This makes the Bowie knife ideal for slicing and stabbing motions.

The blade is also quite thick, which gives it extra strength for chopping and hacking. The handle of a Bowie knife is typically made from wood or bone, and it's often decorated with carved designs. The handle provides a good grip for both slashing and thrusting motions.

Bowie knives are still popular today, even though they're no longer used in combat or self-defense. They're commonly used by hunters, outdoorsmen, and collectors. And their iconic design makes them popular as decorative items as well.
How to Sharpen Chipper Blades by Hand
If you have a wood chipper, chances are you will need to sharpen the blades at some point. While it is possible to take your chipper to a professional to have the blades sharpened, it is also possible to do it yourself. With a little time and effort, you can keep your chipper's blades in good shape and save yourself some money.

Here are some tips on how to sharpen chipper blades by hand: 1. First, be sure that the area around your work space is clean and free of debris. You don't want anything getting in the way or getting caught in the blades as you work.

2. Next, identify which side of the blade is dull. In most cases, one side will be sharper than the other. Once you know which side needs more attention, begin sharpening that side first.

3. To sharpen the blade, use a file or grinding stone specifically designed for metalwork. Start at the base of the blade and work your way up towards the tip in smooth strokes. Be careful not to apply too much pressure – you don't want to damage the blade.

4.. Work on each side of the blade until it is nice and sharp (you should be able to feel if it's sharp enough by running your finger along it). Once both sides are done, move on to honing with a honing stone or rod – this will help give the edge a nice, fine finish.
How to Use a Leather Strop
If you're like most people, you probably think of a leather strop as something that's used to sharpen knives. And while it's true that strops are often used for just that, they can actually be used for much more. In fact, a good leather strop is an essential part of any woodworker's toolkit.

Here's how to use one: First, it's important to understand what a leather strop does. When you sharpen a knife on a stone, the blade leaves behind microscopic metal particles.

These particles can dull your knife over time, so it's important to remove them before they have a chance to build up. A strop does just that – it polishes the blade and removes any debris that could potentially cause problems down the line. To use a strop, simply hold it in one hand and run the blade of your knife across it in long, even strokes.

Be sure to stroke in both directions – back and forth – for best results. You'll know you're doing it right when you see a nice shiny edge on your blade. Once you've given your knife a good stropping, it will be ready for anything life throws its way!
What Can I Use As a Leather Strop
If you're looking for a leather strop to help keep your knives sharp, you have a few options. You can buy a ready-made strop, or you can make your own. Here's a look at what you need to know about leather strops.

Ready-Made Strops There are a few different types of ready-made strops available on the market. The most common is the hanging strop, which is exactly what it sounds like – a strip of leather that hangs from a hook or nail.

These are typically made from cowhide or horsehide and come in various sizes. Another option is the hand strop, which is smaller and more portable than the hanging strop. These are held in the palm of your hand while you use them, and they're often made from softer materials like deerskin or sheepskin.

Hand strops are great for touch-ups on the go but may not be sturdy enough for heavy duty work. Finally, there are bench strops, which are larger still and designed to be mounted on a workbench or table top. Bench strops are usually made from heavyweight materials like latigo or harness leather and can provide a very smooth surface for honing blades.

However, they're also more expensive than other types of strops and may not be necessary if you don't do a lot of knife sharpening. Making Your Own Strop If you want to save some money or just prefer to DIY, it's easy to make your own leather strop at home with just a few supplies.

All you need is some good quality leather (cowhide works well), some contact cement or super glue, and something to use as backing for your strop (a piece of wood, laminate countertop, etc.).
Knife Sharpening 101
If you're like most people, you probably don't think much about your knives until they become dull. Then, all of a sudden, you can't slice through that tomato or chop that onion without sawing back and forth for what seems like forever. Sound familiar?

Don't worry, you're not alone. Dull knives are one of the most common complaints we hear in the kitchen. The good news is that there's an easy fix: knife sharpening!

With just a little time and effort, you can keep your knives in tip-top shape so they make quick work of every task in the kitchen. Not sure how to get started? Here's everything you need to know about knife sharpening 101.

Why Sharpen Your Knives? We often get asked why it's necessary to sharpen knives when they come with a factory edge from the store. There are a few reasons for this: first, those factory edges are usually not as sharp as they could be; second, even if they start out razor-sharp, they will inevitably dull over time with regular use; and third, a sharper knife is actually safer to use than a dull one because it requires less force to cut through food (which means there's less chance of slipping and slicing yourself).

So now that we've established why sharpening your knives is important, let's talk about how to do it. How Often Should You Sharpen Your Knives? Knife Sharpening 101This varies depending on how often you cook and what types of foods you typically prepare.

If you're an avid home cook who uses your knives multiple times per day, then you'll likely need to sharpen them every couple of weeks or so. On the other hand, if you only cook occasionally or mostly prep softer foods like fruits and vegetables, then once per month might be sufficient. Ultimately, it's best to go by feel – if your knives don't feel as sharp as they used to or if they're starting to slip more often when cutting through food (resulting in jagged edges), then it's time for a touch-up.

What Tools Do You Need? The good news is that knife sharpening doesn't require any fancy tools or equipment – just a honing rod (sometimes called a steel) and some patience! A honing rod looks like a long metal rod with either a pointed end or looped end (for safety).
Whetstone
When it comes to sharpening your knives, a whetstone is one of the best tools you can use. A whetstone is a flat stone that is usually made out of silicon carbide or corundum. The stone is placed on a surface and then you use a honing oil or water to lubricate the stone.

You then hold the knife at a 20-degree angle and sharpen the blade by moving it back and forth across the stone. Whetstones are great for sharpening your knives because they provide a consistent angle every time. If you're using a handheld sharpener, it's easy to get different angles each time which can result in an inconsistent edge on your knife.

With a whetstone, you always know that you're getting the same angle each time which results in a sharper blade. Another benefit of using a whetstone is that it doesn't remove as much metal from your knife as other methods like electric sharpeners. This means that your knife will stay sharper for longer before needing to be sharpened again.
Knife Sharpening 101 Youtube
If you're like most people, you probably use your knives on a daily basis but don't think much about how to keep them sharp. Well, it's time to change that! Knife sharpening is an important skill to have and it's not as difficult as you might think.

With just a few simple steps, you can easily sharpen your knives at home with minimal effort. First, you'll need to choose the right type of sharpener for your knives. There are many different types on the market, so do some research to find the one that will work best for you.

Next, gather all of the materials you'll need including: a cutting board, a honing rod or stone, and your chosen sharpener. If you're using a honing rod or stone, soak it in water for about 10 minutes before starting. This will help prevent damage to the blade.

Now it's time to start sharpening! Begin by holding the knife at a 20-degree angle against the cutting board then run the blade along the hone or sharpener from heel to tip. Repeat this motion several times on each side of the blade until it feels nice and sharp.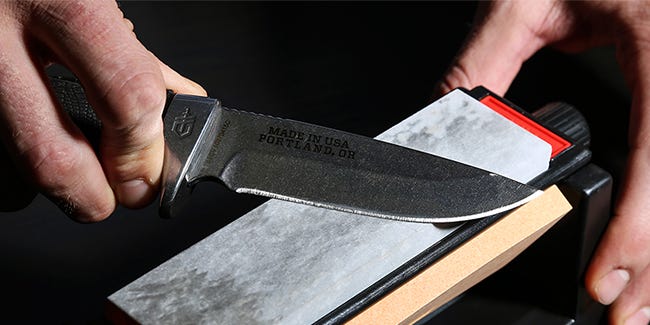 Credit: www.gearpatrol.com
Can You Sharpen a Bowie Knife?
Yes, you can sharpen a Bowie knife. The best way to sharpen a Bowie knife is with a sharpening stone. First, find a sharpening stone that is appropriate for the size and type of knife you have.

Second, soak the stone in water for 10-15 minutes. Third, use a light oil or lubricant on the blade of your knife before starting to sharpen. Fourth, start by holding the blade at a 20-degree angle to the stone and use long strokes along the length of the blade.

Fifth, increase the angle to 30 degrees and continue stroking until you have achieved a nice edge on your blade. Sixth, finish up by stroking along the entire length of the blade at a 45-degree angle.
What Angle Should You Sharpen a Bowie Knife?
A Bowie knife is a type of large sheath knife with a fixed blade. It is important to know the proper angle to sharpen your Bowie knife so that it performs at its best. The ideal angle to sharpen a Bowie knife is between 20 and 30 degrees.

To sharpen your Bowie knife, first use a coarse-grit stone to remove any nicks or burrs on the blade. Next, switch to a medium-grit stone and continue sharpening until you have achieved the desired edge. Finally, use a fine-grit stone to hone the edge and remove any remaining imperfections.
How Do I Know If My Knife is 15 Or 20 Degree?
If you're not sure whether your knife is 15 or 20 degree, there are a few ways to check. First, look at the blade itself. If it's 15 degrees, it will be much sharper than a 20 degree blade.

Second, feel the edge of the blade with your finger. If it's 15 degrees, it will feel very sharp and almost like razor blades. Third, try slicing through a piece of paper.

If the knife is 15 degrees, it will slice through easily without any resistance.
What is the Best Edge for a Bowie Knife?
When discussing the best edge for a Bowie knife, there are a few things to consider. First, what is the intended use of the knife? Second, what is the blade made from?

Third, what is the size and shape of the blade? And fourth, how will the knife be used – for slicing or chopping? Assuming that we are talking about a traditional Bowie knife – one with a fixed blade and a Clip Point or Drop Point blade shape – then there are a few different options when it comes to choosing an edge.

For example, if the Bowie knife will be used primarily for slicing and skinning game animals, then a Scandi grind or Convex grind would be ideal. However, if the Bowie knife will see more use as a general-purpose camping and survival tool, then a Flat grind or Saber grind would be better suited. As far as material goes, most Bowie knives are going to be made from Carbon steel or Stainless steel.

Carbon steel blades will take and hold an edge better than Stainless steel blades, but they are also more prone to rusting if not properly cared for. Stainless steel blades require less maintenance but may not perform as well when put to hard use. In terms of size and shape, it really depends on personal preference.

Some people prefer a larger Bowie knife with a longer blade while others prefer something smaller and more compact. Ultimately, it all comes down to what you feel comfortable using and what suits your needs best.
How to sharpen a Bowie Knife
Conclusion
To properly sharpen a Bowie knife, it is important to use the right tools and techniques. With a little practice, anyone can keep their Bowie knife razor-sharp and ready for action.